Experience Unrivaled Oceanfront Luxury in Pompano Beach, Florida! Elevate your lifestyle with our exclusive collection of 4 exquisite 4-story luxury townhomes nestled directly across from the ocean, in proximity to the iconic Pompano Beach pier. These homes redefine coastal living, offering you a slice of paradise like never before.
Discover a world of sophisticated features: Private Elevator: Seamlessly move between levels, embracing the convenience and luxury of your own private elevator. Summer Kitchen & Private Pool: Entertain with flair! Revel in resort-style outdoor living with a summer kitchen and a refreshing private pool, setting the stage for ultimate relaxation and unforgettable gatherings. This space is ideal for intimate evenings or memorable celebrations. Private 2-Car Garage: Your vehicles deserve a lavish home too! Enjoy the privilege of a spacious 2-car private garage that adds an extra layer of convenience and security. Spacious & Versatile Layout: Offering 3 bedrooms, 4.5 bathrooms, a den, and a multipurpose room, these homes provide ample space for your unique needs and creative ideas. Generous Square Footage: With unit sizes ranging from 3,362 to 3,862 square feet, you have plenty of room to craft your dream haven. Luxury Finishes: Immerse yourself in a world of elegance with carefully curated luxury finishes that epitomize sophistication and comfort.
Prime Oceanfront Location: Revel in the waves just steps away and the renowned Pompano Beach pier in your sight, offering the quintessential coastal lifestyle. Exclusive Lifestyle: Blend the serenity of the ocean with the vibrant energy of Pompano Beach. Enjoy water sports, beachfront dining, and the allure of a dynamic coastal community. Seize the Moment: Secure one of these limited 4 luxury townhomes, where each instant invites you to embrace life's finest offerings. Contact Us Today: Own your dream home at the pinnacle of oceanfront living in Pompano Beach.
Pompano Beach Pier: South Florida's Newest Dining and Recreation Destination
The development is part of a major beach front renovation that includes: dune restoration, landscaping, new beach pavilions, an interactive fountain, streetlights, new on-street, surface and structured parking, a new library, a new fire station, major sewer, water and drainage improvements and a new pier.
A beautiful 655 car parking garage has been completed, offering the most convenient parking of any South Florida beach town. Beach House Restaurant, the hottest new restaurant in South Florida, with its delicious cuisine and amazing views of the beach, the historic Hillsboro Lighthouse and new Pier, has been open since March 2018 and has received rave reviews from local critics! Other notable tenants include Oceanic Restaurant, Lucky Fish Beach Bar and Grill, Alvin's Island Beach Apparel and Water Sports, BurgerFi, Kilwin's and Cannoli Kitchen. A dual branded, 150 room, Hilton Tru/ Hilton Home2Suites hotel with a rooftop bar has been recently completed. And a 2 story events center with a roof deck, Lovin' Oven, suitable for corporate events and weddings, is in design.
Pompano Beach Fishing Village is accessible by foot, bicycle, car, bus and even water— the water taxi now stops at the west end of Pier Street, on the Intracoastal Waterway.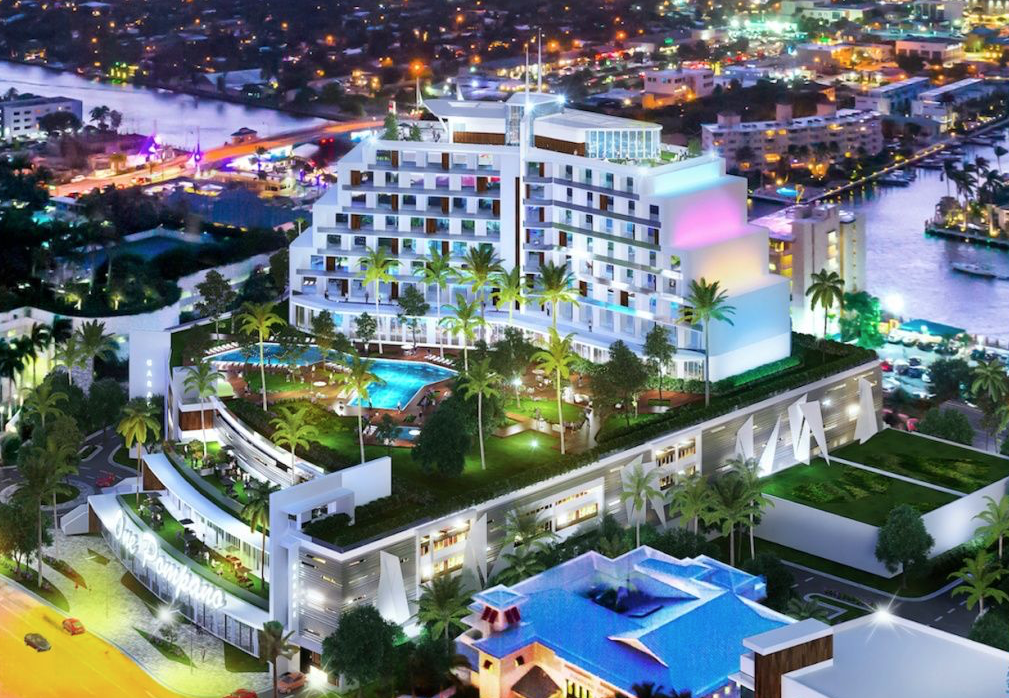 Down the Street from 499 Ocean
109. N. Ocean Blvd. (In Development)
City officials want to build a hotel and parking garage on the flat parking lot at 109. N. Ocean Blvd. This rendering is a conceptual design. The city is still in negotiations with a possible developer and no final design has been approved yet.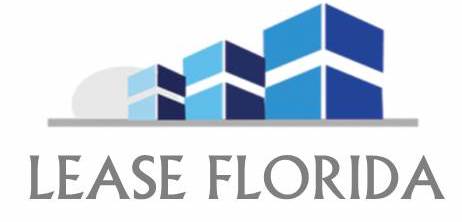 ALAN I. WASERSTEIN is a Miami Beach Native who grew up in in Miami Dade and attended the University Of Miami School Of Business. After graduating Alan went to Chicago and became an options trader on the Chicago Board of Options Exchange doing risk arbitrage. Alan has been doing real estate investing and development since 1984 and understands Real Estate, Development, Construction, financing, and Brokerage with all types of properties. He started out building from scratch over 30 new single family homes and renovated over 90 homes that were distressed assets and/or damaged during Hurricane Andrew and sold all of them. My experience also expands into office buildings purchasing and renovating over 15 buildings totaling in excess of 700,000 sf. In addition I have rebuilt 5 multi-family buildings with over 500 units, a mixed use complex in Miami Beach with a 100 unit hotel, a CVS and parking garage. My experience expands into single tenant build to suit properties building and renovating over 60 Family Dollar / Dollar Tree stores, as well as developing over 30 properties for other tenants ranging from banking institutions, restaurants, gyms and big box tenants. I have also developed offices for several different Government agencies including the IRS, US Probation, and Department of Labor . My experiences include doing 5 condo conversions with over 400 units after completely renovating the complexes. 2 townhouses projects one with 20 units and another with 5 and developing 5 different low rise condo buildings ranging from 5 units to over 28 units. My largest development was the St.Tropez condo in Miami Beach which was 28 stories and 101 units. Most recently I have obtained the Gulfstream project and received our approvals for a mixed use 320 unit apartment , 150 unit hotel project.
MARK H. DUBROW was born and raised in New Jersey, graduating from Ohio University's School of Business. After graduation Mark turned his passion for golf into a profession, before turning to a career in real estate development. Mark has been active in real estate for more than 35 years, gaining extensive experience from the ground up in development and acquisitions of residential and commercial projects. Once the professional golf bug was out of his system, Mark built and sold forty new single-family homes in Central New Jersey and then expanded that experience to commercial and office developments as well. Mark's experience includes the acquisition, financing, design, approvals, construction, and sales and leasing of both residential, industrial, multi-family and office buildings. Mark has developed over 400,000 sf of industrial/flex space in ten buildings, five office projects of more than 750,000 sf and residential projects in excess of 1,000 units. Some of the more notable projects are the Fidelity Bank Coin and Currency Building, Union Valley Corporate Center, a 100,000 sf joint venture with a publicly traded homebuilder that occupied 60% of the building, and Westgate Corporate Park, a 400,000 sf spec office building project, a joint venture with The Chubb Insurance Company which was leased to Prudential Insurance Company and Chubb. Mark was also involved in design, development and construction of Milwin Farms, a high- end luxury single-family community designed by noted architect Robert A.M. Stern. The Florida projects include Starwood Capital's main headquarters office building in Miami Beach, 4000 Alton Road, a land assemblage and condominium project in Miami Beach, Palau Sunset Harbor, a condominium project in Miami Beach, Uptown Biscayne, a mixed use residential, retail and office project in Miami and IOS on the Bay a condominium project in Miami.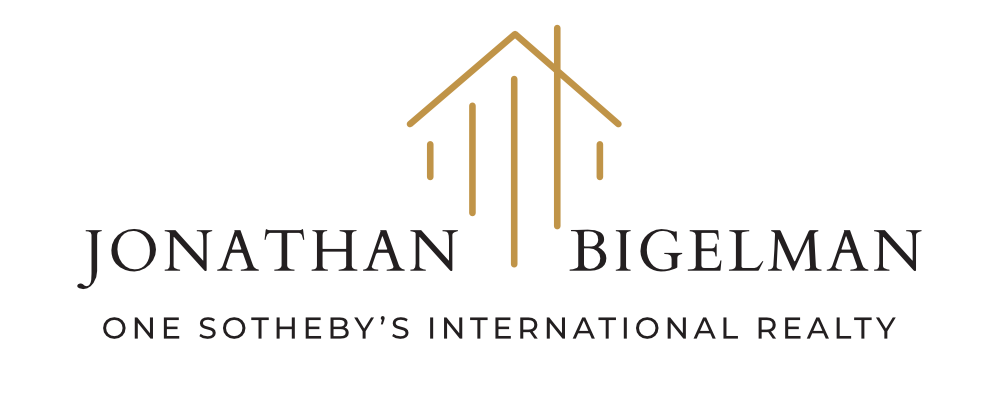 Top producing Real Estate agents like Jonathan Bigelman with hyper-localized expertise and an unrelenting drive to deliver for his clients are evolving Miami Florida into one of the country's hottest destinations. Being a native South Floridian with a passion for Finance and Real Estate, Jonathan grew up in a Real Estate family (formerly Harding Realty) with a long historical track record of success. As a Miami Realtor with over 8 years of experience in the Real Estate field, Jonathan has been recognized by top industry voices as a true powerhouse in residential real estate with multiple record sales set in his career.
Jonathan attributes his success to a tri-level strategy of having a strong referral network, unmatched grit on a daily basis, and leveraging smart marketing and technology. With over $100 Million in sales and industry know-how gained throughout his career, Jonathan leads the industry in multi-million dollar real estate transactions. He has been recognized by the New York Post, The Real Deal, South Florida Business Journal, and other publications as a leading real estate agent in the nation.
Using an individualized strategy for each client and investor with whom he works, Jonathan swiftly gains trust and delivers by leveraging his high-profile network, unparalleled industry knowledge, and his passion for the community he serves and grew up in.
When working with Jonathan Bigelman, each client can feel confident with the expertise he exhibits in both the localized real estate areas of interest and how to achieve maximum results.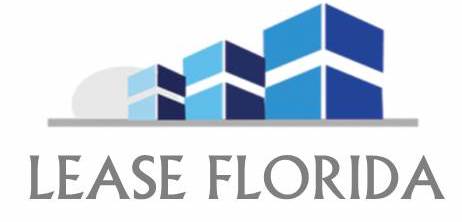 He's the Owner Representative for LeaseFlorida Companies. He'll be working on leading the sales and marketing team on behalf of LeaseFlorida Companies in an effort to help sell the remaining townhomes for sale at Finesse4 in Pompano Beach.
Jake is a dedicated commercial real estate agent, specializing in investment research, property acquisitions, and leasing. His greatest passion lies in finding solutions for clients, by aligning their objectives with real estate opportunities. Within the ever-evolving commercial real estate landscape of Miami, he eagerly explores networking opportunities and innovative methods to create added value for his clients.
As part of his entrepreneurial journey, he played and continues to play pivotal role in the development of eMailACheck, a company with the vision of revolutionizing the real estate industry through the implementation of technical solutions to make payments by issuing an electronic check and sending it via e-mail. Collaborating closely with top-notch engineers and designers, he spearheaded the creation of advanced software that prioritizes innovation and swiftly adapts to the evolving needs of customers. Leveraging his extensive expertise in commercial real estate, he found valuable support and cooperation from colleagues throughout this endeavor.