499 Ocean Boulevard LLC, a development by Alan Waserstein and Mark Dubrow, is in the design and approval phase of a four-unit townhouse development project located on Ocean Boulevard (A1A) in Pompano Beach, Florida. The property sits directly across from the City of Pompano's oceanfront park which offers direct access to the beach and clear and unobstructed views of the beautiful ocean and sandy beach. 499 North Ocean is within a short walking distance to the new and regentrified Pompano Beach Pier and Beachfront. This area includes restaurants, shops, hotels as well as public access to the Pompano beaches. The site is five blocks north of Atlantic Boulevard where there are additional restaurants and shops. Direct access to US1 , I95 and the Turnpike is a short distance, downtown Boca Raton is 15 minutes and Delray Beach is a 30 minute drive.
Pompano has been experiencing a real estate boom. Demand and prices have rapidly increased, especially for Oceanfront properties. The Related Solemar project, just north of 499 Ocean, sold out during the pre-construction phase. The Ritz Residence project, located to the south of 499 Ocean is in the presale phase with unit sizes ranging up to 7,000 square feet and prices over $2,500 per square foot.
Each unit will be three stories with finished roof terraces, decks and private elevators. All units will have a two-car garage, private pool and private yard, high level luxurious finishes, amenities, and appliance packages. Full height hurricane impact windows and doors, security, and technology features as well as comfort and peace of mind features expected in an elegant high-end luxury home.
Zoning and Site Plan Approval
The Pompano Beach zoning code classifies this project as a Minor Site Plan within the RM-45/HR (Multifamily) zoning. The proposed design is fully conforming to the zoning code. Minor site plans approvals are processed administratively through the Design Review Committee ("DRC"), a public hearing is not required. The DRC is composed of administrative staff and consultants, the project team has met with members of the committee as well as other Planning and Zoning staff members to review the proposed plan. The site plan and design is being refined to incorporate the comments from city staff as well as marketing considerations. The team anticipates submitting plans for the site plan approval on February 10th for a March 16th DRC meeting.
Pompano Beach Pier: South Florida's Newest Dining and Recreation Destination
The development is part of a major beach front renovation that includes: dune restoration, landscaping, new beach pavilions, an interactive fountain, streetlights, new on-street, surface and structured parking, a new library, a new fire station, major sewer, water and drainage improvements and a new pier.
A beautiful 655 car parking garage has been completed, offering the most convenient parking of any South Florida beach town. Beach House Restaurant, the hottest new restaurant in South Florida, with its delicious cuisine and amazing views of the beach, the historic Hillsboro Lighthouse and new Pier, has been open since March 2018 and has received rave reviews from local critics! Other notable tenants include Oceanic Restaurant, Lucky Fish Beach Bar and Grill, Alvin's Island Beach Apparel and Water Sports, BurgerFi, Kilwin's and Cannoli Kitchen. A dual branded, 150 room, Hilton Tru/ Hilton Home2Suites hotel with a rooftop bar has been recently completed. And a 2 story events center with a roof deck, Lovin' Oven, suitable for corporate events and weddings, is in design.
Pompano Beach Fishing Village is accessible by foot, bicycle, car, bus and even water— the water taxi now stops at the west end of Pier Street, on the Intracoastal Waterway.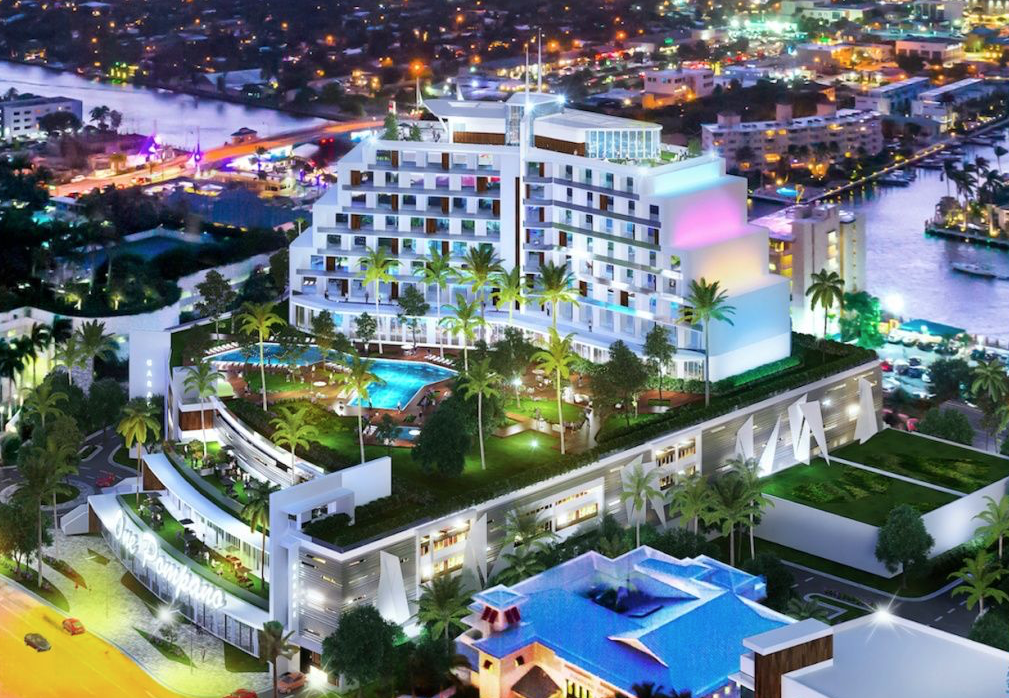 Down the Street from 499 Ocean
109. N. Ocean Blvd. (In Development)
City officials want to build a hotel and parking garage on the flat parking lot at 109. N. Ocean Blvd. This rendering is a conceptual design. The city is still in negotiations with a possible developer and no final design has been approved yet.

ALAN I. WASERSTEIN is a Miami Beach Native who grew up in in Miami Dade and attended the University Of Miami School Of Business. After graduating Alan went to Chicago and became an options trader on the Chicago Board of Options Exchange doing risk arbitrage. Alan has been doing real estate investing and development since 1984 and understands Real Estate, Development, Construction, financing, and Brokerage with all types of properties. He started out building from scratch over 30 new single family homes and renovated over 90 homes that were distressed assets and/or damaged during Hurricane Andrew and sold all of them. My experience also expands into office buildings purchasing and renovating over 15 buildings totaling in excess of 700,000 sf. In addition I have rebuilt 5 multi-family buildings with over 500 units, a mixed use complex in Miami Beach with a 100 unit hotel, a CVS and parking garage. My experience expands into single tenant build to suit properties building and renovating over 60 Family Dollar / Dollar Tree stores, as well as developing over 30 properties for other tenants ranging from banking institutions, restaurants, gyms and big box tenants. I have also developed offices for several different Government agencies including the IRS, US Probation, and Department of Labor . My experiences include doing 5 condo conversions with over 400 units after completely renovating the complexes. 2 townhouses projects one with 20 units and another with 5 and developing 5 different low rise condo buildings ranging from 5 units to over 28 units. My largest development was the St.Tropez condo in Miami Beach which was 28 stories and 101 units. Most recently I have obtained the Gulfstream project and received our approvals for a mixed use 320 unit apartment , 150 unit hotel project.
MARK H. DUBROW was born and raised in New Jersey, graduating from Ohio University's School of Business. After graduation Mark turned his passion for golf into a profession, before turning to a career in real estate development. Mark has been active in real estate for more than 35 years, gaining extensive experience from the ground up in development and acquisitions of residential and commercial projects. Once the professional golf bug was out of his system, Mark built and sold forty new single-family homes in Central New Jersey and then expanded that experience to commercial and office developments as well. Mark's experience includes the acquisition, financing, design, approvals, construction, and sales and leasing of both residential, industrial, multi-family and office buildings. Mark has developed over 400,000 sf of industrial/flex space in ten buildings, five office projects of more than 750,000 sf and residential projects in excess of 1,000 units. Some of the more notable projects are the Fidelity Bank Coin and Currency Building, Union Valley Corporate Center, a 100,000 sf joint venture with a publicly traded homebuilder that occupied 60% of the building, and Westgate Corporate Park, a 400,000 sf spec office building project, a joint venture with The Chubb Insurance Company which was leased to Prudential Insurance Company and Chubb. Mark was also involved in design, development and construction of Milwin Farms, a high- end luxury single-family community designed by noted architect Robert A.M. Stern. The Florida projects include Starwood Capital's main headquarters office building in Miami Beach, 4000 Alton Road, a land assemblage and condominium project in Miami Beach, Palau Sunset Harbor, a condominium project in Miami Beach, Uptown Biscayne, a mixed use residential, retail and office project in Miami and IOS on the Bay a condominium project in Miami.